If there is one thing everyone can agree on, it is the non-negotiable need for sterile surgical instruments in our hospitals. That is why the partnership between RTP Systems Inc. and Trinetics Group is so incredibly important. These two companies have collectively come up with a machine that produces 1 MILLION surgical instrument sterilization wraps annually.
Both locals of the Space Coast, RTP Systems and Trinetics Group met back in 2018 at the Made in Brevard trade show. They kicked off their first project together for a customer in the eCigarette business based out of south Florida. Because that collaboration was so successful, they were able to pursue new opportunities together to showcase their joint skills: Trinetics with their focus on plastic welding services and a specific expertise in ultrasonic welding, and RTP Systems' proven business in automated manufacturing and quality control systems.
A Space Coast Solution
When a client in California looked to them for help in the medical field, they knew they were the right fit for the job. The product is a surgical instrument sterilization wrap. It keeps the tools sterile, an obvious necessity! But due to the increase in labor costs and need for the sterile wraps, the company reached out for help specifically in automating the manufacturing process. The new machine they created for the job, installed at Trinettics, has the volume capability to produce 1 million pouches annually, running 12 hours a day, 6 days a week.
The wrap is actually made of non-woven polyethylene, but the material acts similarly to fabric. Trinetics is able to "melt" the plastic material and reform it, and when it cools, it maintains the same strength as the raw materials. What is more interesting is how the material is welded together to form the pouches. Trinetics utilizes sound energy to create vibrations that cause friction. It is that friction that creates enough heat to melt and weld the material together.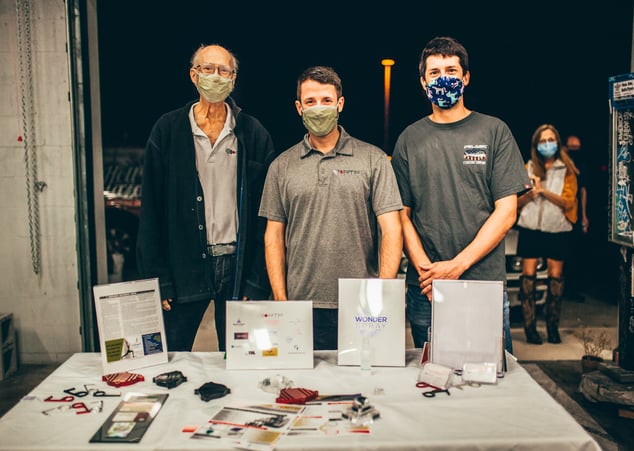 (RTP Systems at the 2020 Groundswell Product Market)
Creation and Automation
James Stern, VP of Engineering of Trinetics Group highlighted the value of what each team brings to this machine. "Between our experience in ultrasonic welding and the RTP team's experience in automation and web handling, we were able to come together to create a machine that meets our needs perfectly," he said.
RTP has a M.A.D approach, or "Meticulous Attention to Detail." Craig Nelson, the president of the company, says the team prides themselves on being a small, highly responsive innovative organization with broad skills and infrastructure. Their areas of expertise are inclusive, with product development from concept to commercialization, ranging from the design and build of factory automation, assembly machines and robotics, manual and 5-axis CNC (computer numerical control) machining services, and materials development.
RTP was able to conceptualize, fully design, engineer, manufacture, assemble all the parts, perform the electric and pneumatic wiring, program the controller, debug the system and install it 4 months after the order the placed, according to Stephen Nelson, VP of RTP Systems.
As it turns out, not only was this the ideal pairing for the collaboration, but it had major benefits as each are local Groundswell Startup members. "Working with a local company like RTP allowed us to be constantly communicating and iterating on product and machine design," said Stern. "Because we were so close, we could have multiple in-person meetings per day if needed. This really helped keep the project on time and on budget." Stern also noted that it helped having RTP's support as minor upgrades or changes were required to meet the scale of the production.
Looking into 2021, both plan on building off the momentum of this new joint venture. Nelson has an aggressive plan to build their customer base for CNC machining, with a goal to become the local "go-to" outfit for onshoring activities by manufacturing companies in the area. It is clear that RTP and Trinettics have found something really profitable in their collaboration and we look forward to seeing what the next step is for these two local businesses!