Andrew Katrina of AK3D is excited about the future of additive manufacturing, the ever-growing technology known more commonly as 3D printing. Through the use of additive manufacturing, AK3D is breaking down barriers for entrepreneurs by reducing the costs to getting a prototype made and providing small-run manufacturing. This allows inventors to get their product into the hands of customers and gain valuable early-stage feedback.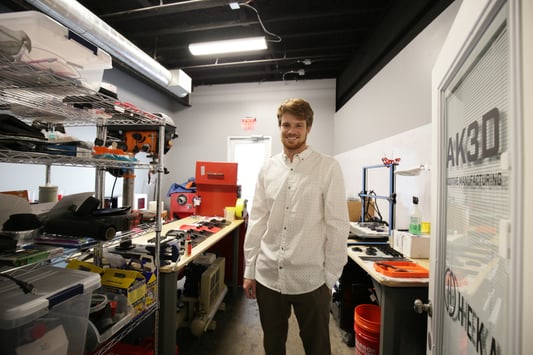 AK3D and Additive Manufacturing
As a continually-adapting industry, additive manufacturing is moving quickly to large scale manufacturing capabilities and into new arenas such as food and beverage, construction, medical, sports, automobile, appliances, fashion and, of course, product development. Through rapid prototyping and low-volume runs, AK3D quickly delivers a physical product into their clients' hands, and in the hands of potential customers. Because they know their clients have big dreams, they design with scale in mind.
"We utilize technologies that contain a wide library of materials. This is quickly changing into something that can transform from an idea to an actual product, and into full-scale manufacturing in a very short amount of time." - Andrew Katrina
What Andrew enjoys most about his job is working with inventors, collaborating with people who have the ideas and the creativity to invent "the next big thing." He appreciates the opportunity to meet people from all different industries, learning new techniques that accelerate product development. Plus, it brings fresh ideas to the table and continuously provides educational opportunities for Andrew, as well as all he introduces to additive manufacturing.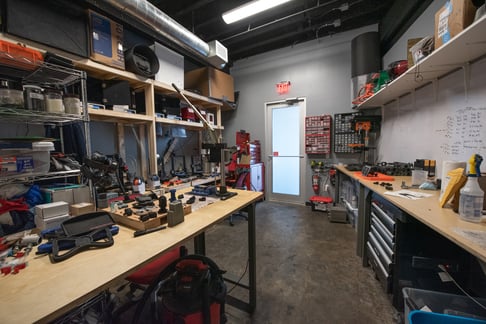 Though a small company, AK3D's current capabilities are extensive:
A material list that includes PLA, ABS, PETG, ASA, carbon fiber, nylon, TPU, polycarbonate and polypropylene.
Small-to-large scale format FDM printers capable of producing parts up to 20" x 20" x 20" cubic inches.
Resin printers that can produce high quality parts, similar to injection molded parts (produce multiple parts at once in the same amount of time).
Small-to-medium scale printers, 8" x 8" x 5" cubic inches.
A injection molding machine that can do a shot volume of 1.1 cubic inches, including the construction of molds to use with the machine.
Use of silicones, urethanes and other castable materials.
Capability to print copper, bronze and stainless steel.
Variety of color options, including the ability to dye resins for unique colors.
CAD design that is done on SolidWorks, Inventor and Fusion 360, and specialty design for additive manufacturing.



Comprehensive and Local
All AK3D services are locally based in Melbourne, Florida, primarily out of the Groundswell Startup office. Andrew first became connected with Groundswell Startups over a year ago when he came in to work with HEKA Works on an innit engineering project. With the aspiration to start his company, Andrew found a community at Groundswell that could not only help him get started, but help others do the same. He said,
"I have been drawn into the community aspect of the incubator space that helps entrepreneurs and startups. I've always wanted to branch off of my own and start my own company and felt that Groundswell was the perfect place to do that."
Looking ahead in 2021, AK3D's mission is to expand their capabilities, and increase their efficiency in the manufacturing processes. Andrew hopes to add even more machines to the inventory, including additional injection molding, metal 3-D printing, casting and other techniques, thus making it even easier for companies to get started.
AK3D is passionate about bringing great ideas to life through innovative manufacturing and a consumer-driven approach. With an unofficial motto of "if you can think it, we can build it," we are excited to see what the new year brings for this fast-growing company and all of its partners!