Few things are more traumatic than the sudden, unexpected death of an apparently healthy young person. The National Institute of Health indicates more than 350,000 individuals in the United States experience Sudden Cardiac Arrest (SCA) each year. Evan Ernst said losing his 15-year-old childhood friend and teammate, Rafe Maccarone, to SCA during a high school soccer practice in Cocoa Beach transformed him personally and inspired him to do anything he could to prevent it from happening to another young person.
In 2013, Ernst partnered with close friends and Rafe's family to develop a nonprofit called Who We Play For (WWPF) that aims to identify the one in 300 young people who do not yet know they have a deadly heart condition and get them access to early intervention resources. He says most people with heart conditions often do not have symptoms of any kind and the only way to detect an abnormality before it's too late is to receive a heart screening, get professional care and – more times than not – get back on the field.
Who We Play For experienced a new challenge after conducting more than 250,000 heart screenings across 15 states and working with Florida state legislatures to mandate intervention resources like CPR training and onsite defibrillators at every school. Unfortunately, Ernst discovered that there were not enough qualified medical professionals to read the pediatric electrocardiogram (ECG) screenings.
"A pediatric heart screening is the most difficult screening to read," Ernst said. "They have many more variables than any adult screening. So, while detecting an abnormality early can save a life, there are only around 300 pediatric electrophysiologists with enough expertise to accurately read pediatric heart screenings in the United States today."
Ernst and WWPF had considered how to use artificial intelligence (AI) for years and said a solution to this problem emerged when he joined the technology incubator Groundswell Startups and met entrepreneurs who were using AI to accurately analyze and categorize massive amounts of imaging data at scale. The result was a radical pivot alongside one of the nation's leading pediatric cardiologists and electrophysiologist, Dr. Bhavya Trivedi. Their team applied to Amazon's Health Equity Initiative Grant to design the world's first AI-enabled interpretation tool for pediatric ECGs, a machine-learning computer program they named "Ainthoven" in honor of Willem Einthoven, who invented the world's first ECG in 1895.
"It was fantastic to work with Amazon's AI team to lay the groundwork to prove that this is doable," Dr. Trivedi said. "Our goal is to use AI to reduce the rate of preventable sudden cardiac arrests down to zero."
Equipped with the largest pediatric ECG dataset in the world, Dr. Trivedi says Ainthoven's program, according to Amazon Web Services, has already proved it can analyze teenage heart screenings more accurately than human physicians. While the Ainthoven AI tool will not be used to provide a specific diagnostic, he says its accuracy will continue to improve as more abnormal and normal screenings continue to refine, or train, the AI model.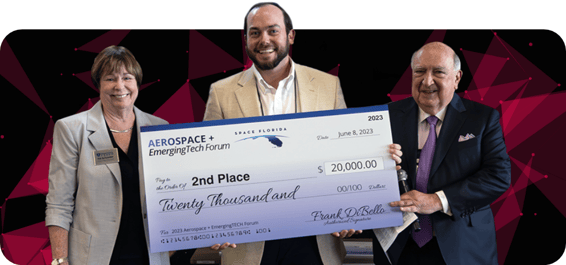 This June, Ainthoven took home the 2nd place prize at Florida Venture Forum's Emerging Tech Forum
"This solves the problem of not having enough experts to read ECGs," Dr. Trivedi said. "Ainthoven's neural network model is going to have seen more ECGs than any cardiologist sees in their lifetime. Even more promising, is that the global standard of care changes when even people in underdeveloped countries can use their iphone to get an expert ECG reading on the fly within a cloud-based system."
Ernst has established partnerships with every children's hospital in Florida with WWPF and says the key to early traction has been leveraging the expertise of mentors within the Groundswell Startups community, many of which are serial entrepreneurs who have experience securing private capital and developing global partnerships.
"I am incredibly proud of the role Groundswell Startups has played in helping Ainthoven," said Jarin Eisenberg, CEO of Groundswell. "From fundraising to navigate the FDA process, our job is to help visionaries like Ernst overcome barriers that stand between their technology, in this case, the lives of children who need this most."
The next stage of development, according to Ernst, requires strategic partnerships with owners of cardiology centers as well as support from government leaders who may lead education and awareness efforts within and outside Florida. Anyone interested in supporting Ainthoven may contact evan.ernst@ainthoven.org.