The opening of the new 8,500 sqft Tomahawk Robotics building has created a pathway for tech expansions in the Groundswell Startups Community. Located in the South Melbourne expansion area, the Tomahawk Robotics building marks a new milestone for the Space Coast startup ecosystem.
Groundswell Startups, founded in 2015, has been instrumental in providing the foundation, space, and tools needed for local startups to test their ideas, gain access to funding, and scale their companies. Over the past 5 years, the Founders of Groundswell have helped more than 30 companies gain access to over 28 million dollars in venture capital funds. Born out of a grassroots effort to create a startup community here on the Space Coast with a focus on collaboration, innovation, and inclusion, Groundswell has had over 175 companies seek its assistance.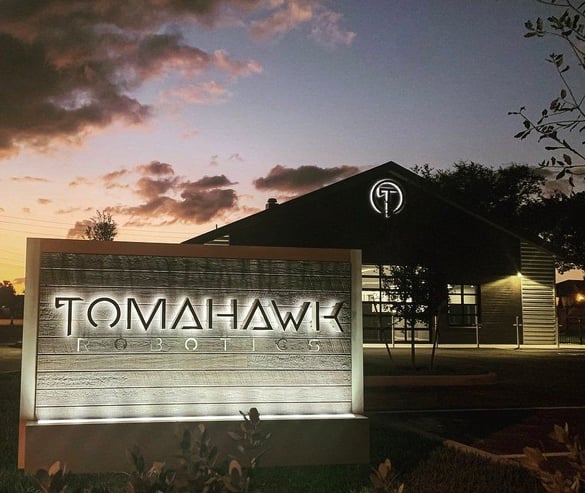 Tomahawk Robotics, founded in 2018, started off as a three-person team who left a local tech-defense company and took a small office at Groundswell. Over the past two-years they've experienced significant growth with now almost 30 employees and partnerships with the UK Military and Samsung. The new building, over a year in the making, came at the perfect time for Brad Truesdell, CEO of Tomahawk. "Our unique lab and office space supports our expanded team and will allow us to continue our growth for years ahead."
Tomahawk's growth has created a pathway for other companies to expand. Moving into their old space is another growing company at Groundswell Startups, Critical Frequency Design (CFD). Having recently won a Phase I SBIR contract with the United States Military, CFD was in need of more space for their lab and anticipates bringing on more employees in 2021.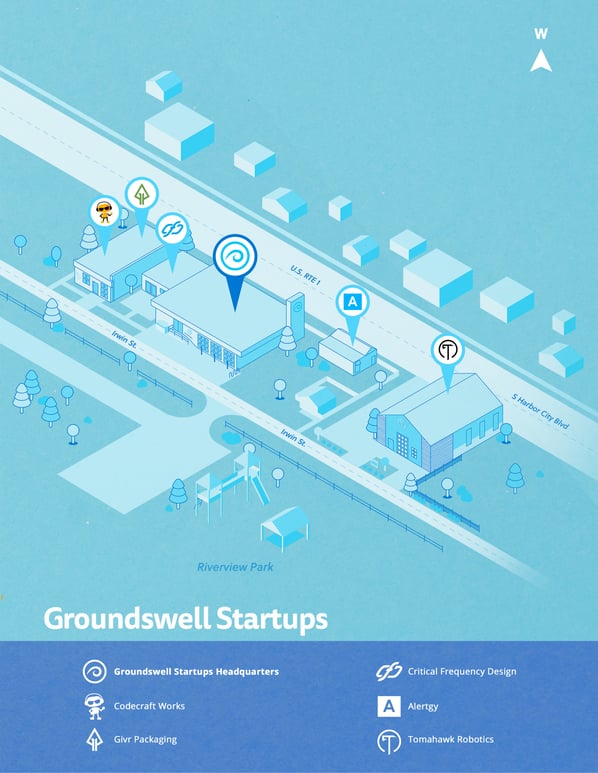 Design Credit: Matt Mayer, Lossy Design
Alertgy, one of the original tenants of Groundswell Startups, is moving the majority of their team and labs into the 'old Pawn Shop' located in-between Groundswell Startups and the new Tomahawk Robotics' building. Named one of the '30 Fastest Growing Private Companies to Watch in 2018' by Silicon Review, the move provides the team more room to develop their second-generation wristband designed to monitor blood glucose levels through non-invasive methods.
To top off the expansions, Givr Packaging, a packaging company focused on sustainable and renewable practices, is now located in a shared-space with Codecraft Works, providing them more space to scale their design and production process. "Givr has been so lucky to be able to scale inside of the Groundswell ecosystem. We started out at a single co-working desk, then graduated to a small office, and now we're in 3,000ft of space where we have our prototyping equipment." Jeremy Bower, CEO/Founder of Givr.
The ability for companies stay concentrated in one area as they scale is unique, and one that creates countless opportunities for collaboration, allowing companies to stay connected to Groundswell's network of highly-skilled professionals and mentors. Prior to the founding of Groundswell, the buildings now occupied by these high-tech startups sat vacant, many of them with boarded up windows. The area which sits across from Riverview Park, has not only breathed new life into an often overlooked area of South Melbourne but has made it more welcoming to families and patrons looking to have lunch at the pavilions, play at the park, and use the open space.
"We see Groundswell Startups as being a catalyst for change - we have created a space where people can take risks, pursue their dreams, and do it within a community of incredibly talented individuals who are willing to step in and help; they are deeply invested in each other's success" said Jarin Eisenberg, COO of Groundswell Startups.
With all of the moving that recently took place, Groundswell Startups' offices have quickly gained new tenants. Over the past 6 months Groundswell has seen an increase in people seeking their help, many of whom are looking to develop consumer products and establish e-commerce sites. To respond to this demand, the high-tech incubator has established a prototyping lab, providing low-barrier access to getting products developed. AK3D, an additive manufacturing company launched out of Groundswell, has enabled the organization to have in-house prototyping and small-run manufacturing capabilities designing everything from plastic, silicone casting, composite and metal products. These capabilities are allowing early-stage entrepreneurs to get their product designed, get it into the hands of customers, and get valuable feedback without having to spend large amounts of money on tooling before they gain traction. This has lead to the marketing and selling of a wide range of products from snacking tools, to blow-dryer accessories, to add-on parts for spin bikes.
"We have a little bit of everything in our ecosystem - there is a wealth of knowledge, talent, and people with the drive to make ideas come to life. I am confident in that whatever idea you bring to our community, we can help you make it a reality" said Eisenberg.