The largest high tech startup incubator in the southeast just expanded – again. Productivity hums within the deep purple, blue, red and black graffiti-tagged walls of Groundswell Startup's brand new prototype lab as the last of the new additive manufacturing machines are wheeled in and unboxed on Irwin Street. What was once an indoor skatepark, in an underserved district of Downtown Melbourne, Florida, is now home to more and more startup founders making headlines in Tech Crunch and Forbes and closing deals with seasoned and accredited investors across states like Florida, Georgia, California, Texas and Maryland.
Groundswell CEO Jarin Eisenberg, is grinning as she initiates a first-ever small batch run for the lab's first paying customer in Florida's Space Coast. She has red-stained lips, black pumps, long brunette locks and a Masters in Sociology. She walks over to a workbench with a top-of-the-line oscilloscope and soldering station. At five feet tall, she may not be the kind of woman anyone might expect to lead a 'Made in USA' manufacturing movement in NASA country. But she is doing just that.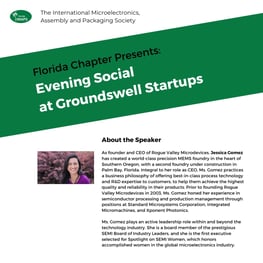 "This is the machine our startups really wanted," she said, caressing the latest machine, a Form Labs Fuse 1+ Nylon Truly Rapid printer capable of printing high-performance parts within 24 hours. The machine is one of several purchased as a result of a $500,000 grant awarded by Brevard County District 5 Board of Commissioners late last year.
"The reason this lab is a game-changer is because it is a technology that otherwise would not be accessible to the general public," Eisenberg said. "It's affordable and these machines give anyone the ability to affordably reduce their development cycle by several weeks or months."
Eisenberg said Groundswell, which is a non-profit incubator serving high tech founders in the county since 2015, now has a robust pipeline to startup capital and early-stage manufacturing resources. These are essential to fostering the skills of the future and lower the barrier to entry for 'Made in USA' product companies like Kalogon, SwiftPaws, Archer, and dozens of other commercial manufacturing and defense contractors.
"Frankly, I need something that I can physically show people to market our small launch vehicle," Scott Hasbrouck, Founder of Deep Planet Research said. He says his customers include DARPA, the U.S. Space Force and Silicon Valley-types and that he is currently manufacturing a 100-cube low-earth orbit satellite constellation. "The cost model is competitive due to the community-oriented nature of this space. The turnaround time is, hypothetically, next-day and you simply can't beat that – at best, I'd wait a few weeks, if I outsourced."
Founder of Catania Enterprises Stefanie Catania, said she is excited to partner with Groundswell and facilitate additive manufacturing training for companies and residents interested in using the machines.
"Anyone can gain greater control of their supply chain when we have access to best-in-class prototyping machines like this," Catania said. "It is refreshing to see government leaders partner with Groundswell to pave a way for more innovative American-Made product companies. Together we are increasing access to tools and training that would typically never be accessible to the general public."
In the thick of printing a series of hoses and gaskets, Eisenberg said applications are open to anyone interested in training. Each additive manufacturing training will be tailored to the unique needs of each manufacturer and an official ribbon cutting will be hosted May 2023.
"What I love most is that it redefines the role public-private partnerships play in our community," Eisenberg said. "This lab gives everyone in our community the ability to become curious about manufacturing and bring their ideas to life."