Jaycon Systems, a Melbourne-based product design, prototyping and manufacturing company, is the title sponsor for Groundswell Startups 2nd Annual Product Market taking place on Wednesday, November 17th at 5:30 PM.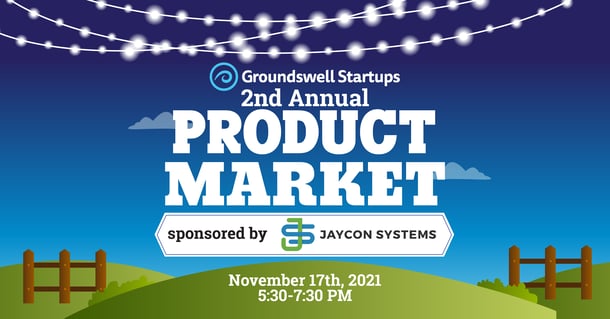 The Product Market is a showcase of consumer products created by local founders part of the Groundswell Startups ecosystem, and the designers and manufacturers who bring them to life. "We are thrilled to have Jaycon Systems partner with us. Jaycon has been a trusted resource for our companies since before Groundswell had a physical space. There is nothing more exciting to us than helping early-stage entrepreneurs validate their idea, build a business around it, and then getting them ready to work with an established engineering and manufacturing company like Jaycon Systems - it means we are doing something right here at Groundswell" said Jarin Eisenberg, Groundswell's Chief Operating Officer.
Many of the companies presenting at the market are already customers of Jaycon Systems including SwiftPaws, Snap Haps, and Kalogon. "We have been shifting our focus to work more with early- and growth-stage startups, as well as being more present in our local community, so promoting this event aligns with our goal of empowering local innovative start-ups from the beginning," said CEO of Jaycon Systems, Jay Chandiramani. Jaycon Systems recently opened an office in Orlando, further establishing themselves as Greater Central Florida's go-to product development and manufacturing company.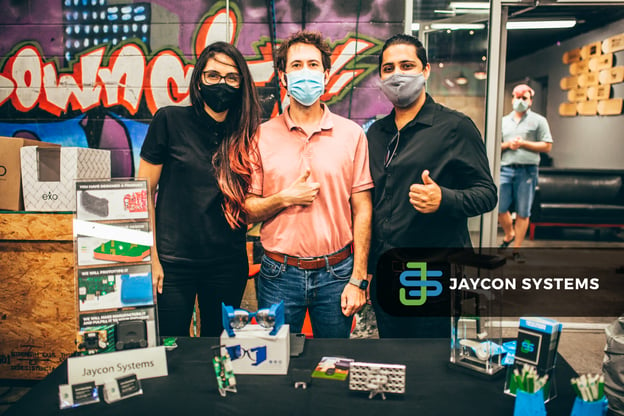 Jaycon Systems Team: Giovana Soares, Derek Blankenship, and Jay Chandiramani
The Product Market will highlight the diversity of companies and technologies that are part of the incubator and coworking space. Last year's inaugural event drew over 90 patrons who were able to purchase products from companies for the holiday season, see early-stage prototypes and learn about the process for bringing a product to market from the founders and manufacturers themselves. This year's event will include microbrews from Hell n' Blazes, food trucks, and live entertainment from Char Good.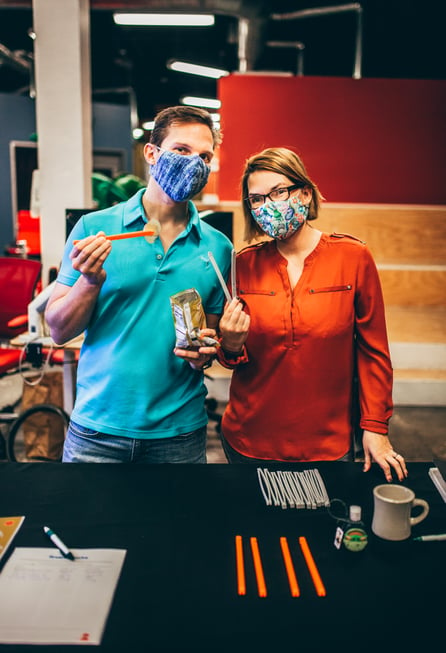 Snap Haps Founders Trevor & Amy Low
Participating companies include:
🐾 SwiftPaws - a leader in modern lure coursing equipment, who recently raised over $100,000 on Indiegogo for their product expansion, SwiftPaws Home Plus

👕 Sea Threads - the first performance wear made from 100% Certified Ocean Plastic
🐠 Scubotics - maker of autonomous underwater vehicles and marine life identification software

🍴 Snap Hacks - a truly fun, easy, and elegant solution to clean snacking, anywhere
🎣 Hooked Coolers - a veteran-owned company providing coolers, bottle openers, imprinted fishing rulers, and more
🍃 Mint Fresco - hand-crafted and machined solid metal alloy furniture legs
🔫 GunEye - gun camera optic device with a unique secondary sighting system
And More! In addition to Jaycon Systems, manufacturing and product design companies participating include AK3D, Heka, RTP Systems, Conduction Technologies, Solutions Manufacturing, and others.
To learn more about the Product Market and to stay up to date on participating companies and manufacturers please visit: https://fb.me/e/3g6B02jG0
To learn more about Jaycon Systems and their services please visit: https://jayconsystems.com/