Ex-SpaceX Engineers Invent the First and Only Smart Wheelchair Cushion Designed to Alleviate Pain and Deliver Personalized, Longer-lasting Comfort
MELBOURNE, Fla. (March 11, 2022) - Over 250 people representing diverse investment groups from around the country attended the first-ever Space Coast Pitch Challenge at Groundswell Startups. New and emerging funds say they were excited by the startups and even more impressed by the passion and energy of the founders throughout the evening. Founded in 2015, the Groundswell tech incubator now serves as home to more than 200 tech-focused founders and entrepreneurs. Groundswell COO, Jarin Eisenberg, says the momentum of what is happening in the Space Coast's growing startup ecosystem is at a major inflection point.
"The Space Coast Pitch Challenge was really a reflection of the maturity of our ecosystem and the depth of the talent here at Groundswell Startups. We've helped over 37 companies raise over 60 million dollars in capital, and with companies in our community like the ones that pitched on Thursday, that number is only going to continue to grow as investors realize that the startup ecosystem on the Space Coast is one they have to keep their eyes on" said Eisenberg.
COO of Groundswell Startups, Jarin Eisenberg, welcomes 250 plus attendees
At the close of 8 five-minute pitches presented by Space Coast founders, Kalogon won Groundswell's Grand Prize, $25,000 in no-strings-attached cash. With a team of former SpaceX, NASA and Northrop Grumman employees, Kalogon launched the world's first smart wheelchair cushion designed to support the healing and prevention of pressure injuries and improve comfort for extended wheelchair use. With more than 3 million wheelchair users in the U.S. growing with an aging population, Kalogon's mission is to empower this underserved community with a personalized experience they deserve according to Founder and CEO, Tim Balz.
"Our team has put in a lot of round-the-clock hours to get where we are today," Balz said. "It means a lot to our team to have the community hear our story and then have leaders in the investment community select us as winners of tonight's event."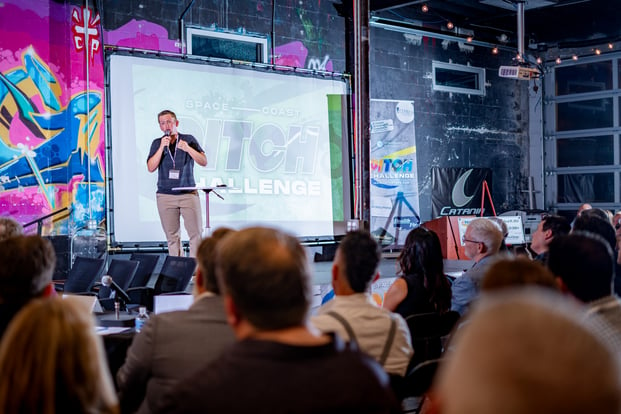 CEO/Founder Tim Balz of Kalogon pitching to the judges and attendees
Judges for the event represented some of the leading VC firms in the Southeast. Ron Tarro, President of New World Angels; Mark Sokol, managing partner of Florida Funders; and Ben Patz, Co-Founder of DeepWork Capital. Judges took part in a panel discussion where they shared the importance of having a local investor base to support early-stage startups. The consensus from all of the judges was that the caliber of companies in the pipeline and overall investment interest across the state in the Space Coast is at an all-time high, and Groundswell Startups is the center of it all.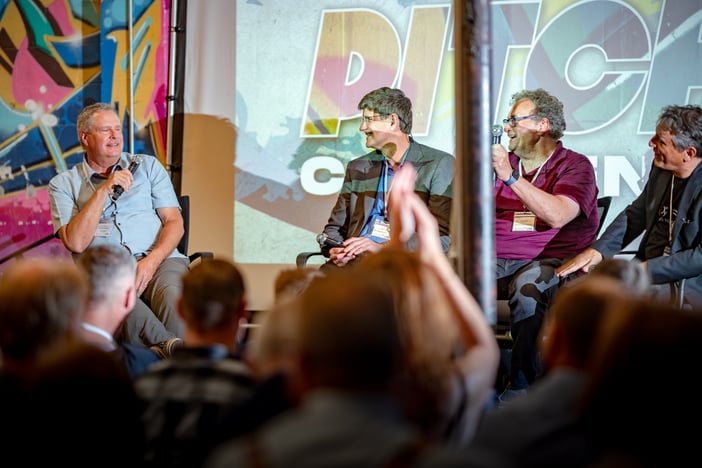 Groundswell Founder John Vecchio hosts panel discussion with judges Ben Patz, Mark Sokol, and Ron Tarro
"I plan to come back here often," Tarro said. "New World has a lot of interest in deep tech and the Space Coast has a lot to offer."
The Space Coast Pitch Challenge was Brevard's first locally funded and produced pitch challenge. Space Coast Economic Development Commission, Cypress Bank & Trust, TSS Solutions, Health First, and Relentless Private Equity Group all came together to make the challenge possible.
"The next L3Harris could be a startup or growth stage company just getting underway on the Space Coast today," said Dr. Abram Walton, Director & Professor, Innovation Management and Business Analytics at Florida Tech and founding chairman of the EDC's innovation council. "That is why the EDC formed the Innovation Council and supports partners like Groundswell to create the places, such as this pitch competition, where innovation and collaboration can happen."
Legacy Angel Network's Founder Matt Helmintoller made the night even more interesting with an additional $5,000 in prize money, and CEO of Sentry View Systems, Kirk Hall, announced a sponsor contribution to Groundswell Startups. Sentry View Systems is the first Groundswell Member to give back in the form of a sponsorship to the ecosystem.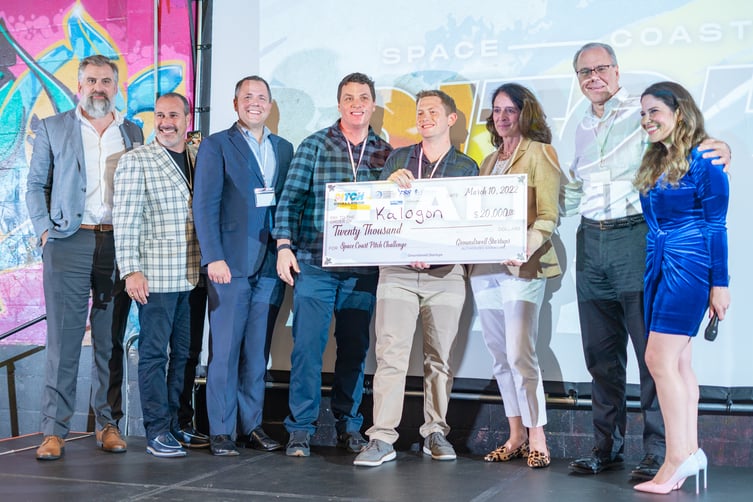 The eight other founders participating in last night's event include:
Mindstamp - The Mindstamp platform coverts existing video into interactive video by adding buttons, questions, clickable areas and other features

GunEye - GunEye has built a weapon-mounted optic device that links to a smartphone. The device enables night vision, automatically records activity, and brings enhanced intelligence to law enforcement and individual users


My Steady Mind - My Steady Mind offers cognitive fitness training through online modules and live, virtual coaching sessions

Helicon Chemical Company - Helicon has patented a composite that results in clean-burning rocket fuel that increases engine performance
boxMica - boxMica uses gig workers to provide data labeling services, critical for machine learning models
IDEM Systems - IDEM Systems' drug-detecting hardware and software is meant to reduce the time it takes for law enforcement to accurately identify drug samples from months to minutes
Awana - Awana helps companies plug their engineering talent gaps with with talent from Latin America using their unique platform that takes care of payroll, vetting and upskilling
To learn more about Groundswell Startups please visit swellstartups.com