Tim Balz is the founder of Kalogon, an early-stage startup that is revolutionizing the seating industry. In a one-on-one interview, he shares the benefit of joining a tech incubator that does not take equity or ownership in its member companies. Balz was casually introduced to Groundswell Startups two years ago at one of their weekly Food Truck Friday events. He was bootstrapping, or, personally investing his time and money in building his first company at that time. Balz and his engineering buddies invented a technology that would prevent people who use wheelchairs or who sit for extended periods of time from getting pressure sores or pressure wounds, which kill more people than most any cancer. While he was confident in the technology itself and its impact on the lives of people, Balz lacked confidence in other aspects of his business.
"When we first started, every member of our team was an engineer and only one of us was collecting a salary," Balz said. "We didn't know how to sell and we didn't know how to raise money. When we came to Groundswell, we understood the technology but we didn't have any of the other pieces required for successful business."
Over the next two years, Balz hired twenty employees and raised more than three million dollars to scale quickly and compete in the seating innovation market. So far this year Kalogon has won top product in accessibility at the world's largest electronics conference CES, first place in patient safety at SXSW global, and best new early-stage innovation at the 2023 Hustle Awards in London.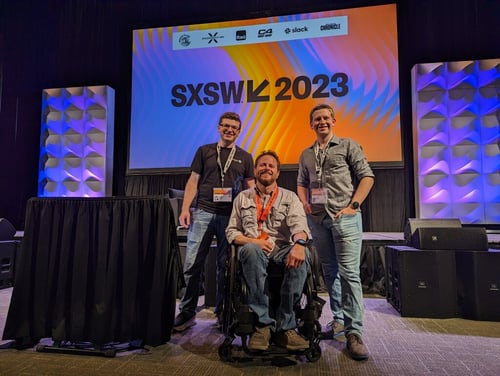 Pictured are Tim Balz, Evan Rosenberg, Lead Engineer, and Kenny Menendez, Kalogon Brand Ambassador at the SXSW Innovation Awards. This was awarded in the Patient Safety Category.
Balz said he believes coachability and perseverance drive the success of the company today and the incubator continues to play a key role in driving fast, smart growth.
"I think what makes Groundswell different is trust," Balz said. "I've learned to always look at the actions of a person and their track record because there are so many people taking advantage of companies. It is easy for a new company to get swindled and become overwhelmed by transactional relationship incentives. Groundswell offers so much up front value and they have never taken equity in our company or any other company."
When his company grew 5x in one year, Balz outgrew his large office at the incubator and moved into the building next door. He said the energy and the culture in and around the coworking space is important at this stage, especially, when team members are experiencing times of stress or when there are wins to celebrate. Balz calls it a "never-give-up work ethic" that is easy to talk about but difficult to put into action each day without surrounding yourself with other like-minded entrepreneurs.
"I realized early on that if I didn't grow personally at a rate that exceeded the rate the company was growing, the company was gonna outgrow me," Balz said.
Groundswell offers a free individualized mentor program to participating entrepreneurs. Balz said that he has personally appreciated the more flexible, tailored mentoring approach. If he is not meeting talented people within the coworking space on his own, then he says he is always seeking or receiving introductions to seasoned mentors who can fill critical-now gaps in the company.
Balz added that the greatest value is the 'Groundswell effect', or momentum behind recent acquisitions and successful fundraising efforts within the startup community. He says that as a first-time founder he is excited about where his company is headed and also eager to serve as a mentor and investor in local companies in the future.
"I mean, we just had a nine-figure acquisition locally this past week," Balz said, referencing the $120M acquisition of Tomahawk Robotics last month. "We've absolutely disproved any notion that you have to be in silicon valley to have a successful startup. And I intend to continue to add value because I believe in giving back to the things that shape me."