Bindi M. Nagda is not your typical PhD candidate. A third-year student in the Computational Biology doctoral program at the Florida Institute of Technology, Nagda is also the founder of EarlyByrd, a medical device startup that is designing a cost-effective, non-invasive, radiation free device for early detection of breast cancer.
Through her experience in conducting research as a doctoral student and the skills gained from her experience as an engineer, Nagda realized she could use her expertise to develop a medical device that can enable individuals in under-resourced communities to have access to low-cost, reliable screening services. EarlyByrd's patent-pending tech uses differences in tissue conductivity and highly-accurate machine learning algorithms to locate malignant cells. Once found, data on the presence and location of these cells is compiled into the EarlyByrd app, where it is displayed to the end-user as an easy to interpret image, similar to an MRI or CT scan.
However, as her motivation to build and commercialize the technology grew, Nagda realized that she would not be able to embark on this venture alone. As a result, she subsequently recruited a team of PhD students in biomedical engineering, chemical engineering, and software engineering, bringing together like-minded students from across FIT.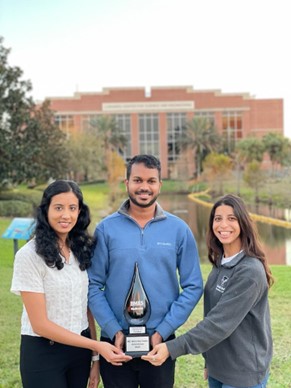 Nagda, Patrawalla, and Raghunandan pose with a trophy won through the BMES-Metronic Design Competition, Nov 2021.
Keeping their long-term goal of designing and commercializing EarlyByrd in mind, the team knew that they needed external support, prompting them to officially start working with Groundswell in March of 2022. When speaking with Nagda, she noted that the infrastructure and expertise that Groundswell has been able to provide has been exceptional – assisting with going-to-market strategies, providing insight into the medical device industry, and offering a beneficial and inspiring ecosystem that serves as the perfect forum for networking and relationship building.
The support and access to expertise and information that Groundswell has been able to provide thus far has been crucial in order to drive a wedge between EarlyByrd and other local startups. These benefits are tangible. On April 8th, EarlyByrd was awarded first place at the annual Embry-Riddle pitch competition, receiving $10,000 in prize money that will fund their first round of lab-based, experimental studies.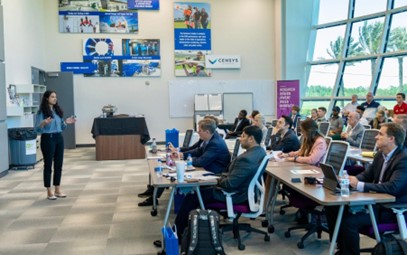 The importance of EarlyByrd's ability to raise capital cannot be overstated. With the long-term goal of receiving FDA approval and successfully commercializing their technology, EarlyByrd will be required to engage in pre-clinical, clinical, and FDA-sponsored trials, each of which drives up the costs associated with entering the market.
However, Nagda is optimistic about leveraging the Groundswell network in order to mitigate some of these issues. With access to a wide network of potential investors, industry-relevant mentors, and a well-established ecosystem of passionate founders, Nagda expects EarlyByrd to continue to experience success.
Going forward, EarlyByrd plans to use some of the Embry-Riddle prize money to run a series of experimental tests to confirm that their device can obtain precise bio-impedance measurements and that their machine learning algorithms can efficiently process the experimental data, an important first step before moving into pre-clinical trials.
To learn more about EarlyBryd please visit: https://www.earlybyrd.io/
To learn more about Groundswell Startups please visit: https://swellstartups.com/