Florida companies have received more early-stage capital than ever this year. Seed and early-stage investments have exceeded $1 billion, nearly quadruple the sum raised in all of 2020, and more Space Coast startup founders are receiving buzz as a result.
This comes as exciting news to Space Coast natives and serial entrepreneurs who founded Groundswell, the largest technology incubator in the region. As the state's largest privately-owned incubator and coworking space, Groundswell has served as home to dozens of seasoned mentors helping more than 35 local founders raise more than $60 million in early-stage investment since 2016.
In an effort to celebrate new wins and attract new founders, Groundswell will host the Space Coast Pitch Challenge with an opportunity to win $20,000 in no-strings attached cash, additional in-kind support, and follow-on challenge opportunities exceeding $500,000. Emerging entrepreneurs are invited to submit their pitch decks or presentations now through January 20th on the swellstartups.com website. Applications close Jan 20th at midnight.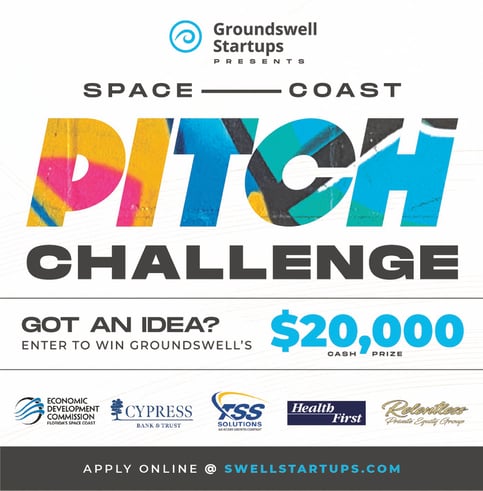 "The strength of Florida's Space Coast has always been its brainpower, ingenuity and entrepreneurial spirit. A goal of the EDC is to find new ways to leverage that strength for the betterment of our community, which is why we are excited to partner with Groundswell Startups on the Space Coast Pitch Challenge to discover new sources of talent and ideas," said Lynda Weatherman, president and CEO, Economic Development Commission of Florida's Space Coast.
This year's challenge prize is made possible by a strategic partnership with the Space Coast Economic Development Commission, Cypress Bank & Trust, TSS Solutions, Health First, Relentless Development, and anonymous private donors. Groundswell COO, Jarin Eisenberg, says companies that are pre-revenue or have less than $1M in revenue are encouraged to apply. Companies that apply must be based or have a substantial presence in Brevard County. Well rounded coachable teams are preferred, and likely given preference as part of the final selection process.
Groundswell Startups recently celebrated a tech expansion with the opening of a new building,
and the milestone of over 60 million in outside capital invested in Groundswell companies.
"We have proven time and time again that we have the resources, access to capital, and expertise to help founders launch products and scale companies from right here on the Space Coast. We are looking to identify the next generation of startups that are going to be a key part of helping us continue to grow our ecosystem. " said Eisenberg.
Eisenberg said dozens of accredited investors from the Southeast and West Coast have pre-registered to attend this year's challenge. She says three other regional pitch competitions will take place immediately following the Groundswell's challenge and that her team has every intention of supporting founders, regardless of whether they are selected as finalists, in securing the resources they need to enter the market with success.
For more information on the Space Coast Pitch Challenge please visit: https://swellstartups.com/space-coast-pitch-challenge/
For media inquires, and additional information about Groundswell Startups please contact: Jarin@swellstartups.com