Where can you buy sustainably sourced clothing at an affordable price?
This was the problem that struck Alexandra 'Alie' Komara, a Satellite Beach native who, upon returning to the Space Coast, started Melbourne's first clothing swap, an event through which local residents are able to connect, engage with their community, and exchange clothing. Komara's company, Space Swap, held its first event in September of 2021, using a social media campaign led by Eli Eve and word of mouth to bring together a group of local artists, musicians, and community members.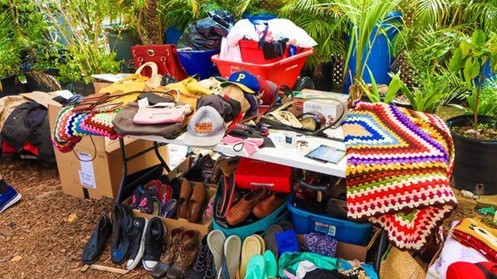 Leftover clothing from Space Swap at Banana River Yard that was donated to Community of Hope Brevard
Since, Space Swap, now a registered 501(c)(3) non-profit, has continued to organize clothing swaps, partnering with a variety of local non-profits including WAYS for Life, Community of Hope, and Kids Dig Gardening. Space Swap's focus on the local community has grown from an aspect of its business to an integral part of its mission. With the help of Groundswell's Shey Anderson, they recently closed on a storefront and are in the process of raising funds through a Kickstarter campaign to fund sustainable fashion classes, art workshops led by local creatives, and a fully-equipped art studio.
Keeping in line with their sustainable ethos, Space Swap has partnered with Orlando-based American Textile Recycling Service, who will recycle all unused textiles that pass through the storefront. However, most remaining textiles will be reused within Space Swap, providing material for public sewing classes and art workshops.
In addition to providing a physical location for clothing swaps, the storefront will operate as an artists' collective and serve as a hub for creatives throughout Melbourne. Komara plans to keep the storefront open later hours in an effort to provide younger artists with a space that is unique to them, allowing them to express themselves through outlets that induce happiness and allow their creativity to run wild. When asked about the importance of providing a space for community members to engage with their creative side, Komara noted, "Art is everything. It is how people see the world and how people see themselves, making it an absolutely essential part of someone's experience. As a result, it is so important in alleviating issues stemming from a lack of purpose or identity."
Through their seemingly all-encompassing range of offerings, which will soon grow to include volunteer training and mentoring, and counseling for local youth, Space Swap offers a means of realizing and providing purpose. During our conversation, Komara emphasized the significance of the two-faceted nature of the space. "It is incredibly important, especially within the creative community, where there is often a disconnect when it comes to creating and making a career. It is essential to break down that wall, allowing people to take themselves seriously and providing a community that empowers and enables them to do so."
Imbued with and emboldened by a greater purpose, these individuals can now give back, creating a positive feedback loop that will quickly reverberate throughout the Space Coast community. Space Swap's physical storefront will serve as the nexus for the radiance of this positive force, but the true drivers are Komara, Anderson, and Eve, the three members of the Space Swap team who, through passion, perseverance, and persistence, have transformed an intangible idea into a physical storefront that will be open to the public in the Fall of 2022.
To learn more about Space Swap and to support their Kickstarter Campaign visit: Space Swap