Groundswell Startups, in partnership with the University of Florida's Herbert Wertheim College of Engineering, has launched a pilot program to connect top engineering and business students to Space Coast-based startups for summer Virtual Internships. The partnership is part of a broader initiative to showcase the Space Coast as a destination for students upon graduation. The two organizations recently announced a collaborative partnership that enables startups in the Groundswell ecosystem to access UF's supercomputer, a result of a 100-million-dollar public-private partnership with the university and Silicon Valley-based technology company NVIDIA.
The Virtual Internship program will connect companies who are a part of Groundswell's incubator community with students and utilize UF's state of the art design and prototyping labs. The effort also connects business students in the UF Innovation Fellows program, which is a partnership between the UF Herbert Wertheim College of Engineering and UF Warrington College of Business, to early-stage startups, helping with sales channels, market research, and curating pitch decks. Trey Womack, the Assistant Director of Engineering Extension and Outreach at the University of Florida, has taken the lead on facilitating strategic partnerships to match students with virtual internship opportunities.
"Our goal is to be a valuable resource to organizations and agencies statewide, not only by creating pathways to our technological infrastructure, but by also ensuring there is a direct connection to our rich talent here at the University of Florida. Our partnership with Groundswell has helped to further bolster these pathways and pipelines in the Space Coast community," said Trey Womack.
In the pilot this summer, UF students will have access to a dedicated workspace at the engineering college and will be provided with intern training focused on successful strategies for working in a virtual environment.
"Our partnership with UF has enabled us to provide more tools to help our startups bring their ideas to life and scale their companies. The labs, equipment, and resources students have access to at UF is a tremendous benefit to early-stage companies. We want to showcase the growth and tech talent here on the Space Coast, and make sure students know this is a great place to live, grow your career, and raise a family," said Jarin Eisenberg, COO of Groundswell Startups.
The high-tech incubator is known for its ability to help companies scale and access funding through its diverse network of mentors, subject matter experts, and the highly skilled professionals that are part of the incubator and coworking space. This pilot program is intended to be the first step in an ongoing initiative connecting UF students to the Space Coast.
Companies and UF students participating in the pilot program include:
SwiftPaws -

SwiftPaws

is a health & wellness lifestyle brand for pets bringing the fastest game of chase ever to your backyard. SwiftPaws Home lets you create courses up to 300 feet long with speeds up to 30mph. They will be working with Dakota Roy, a Mechanical & Aerospace Engineering student with experience in 3D modeling software, RC electric motors and battery systems, and working with gear and pulley systems. Dakota will be working with SwiftPaws and their engineering services team, Conduction Technologies, to design, build, test, and report on improvements that are paving the way for the next product in the SwiftPaws family lineup: SwiftPaws Home Plus!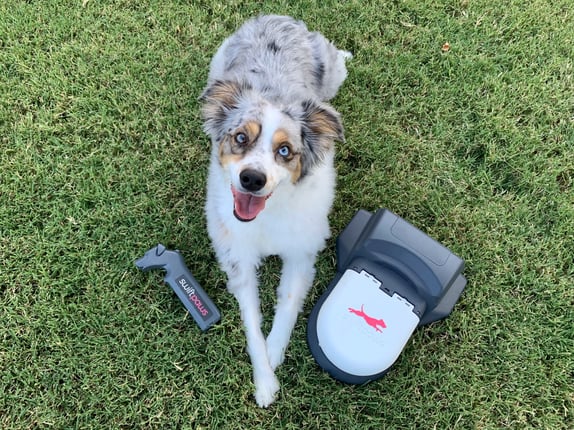 GunEye - GunEye has developed the new innovative GunEye-HD360 IR Smart Gun Camera optic device with a unique Secondary Sighting System technology that links a gun directly to a mobile phone using their GunEye Target App. GunEye will be working with Adam Slavny, a Computer Science major, who has a passion for app and software development. Adam has Scrum Master experience, in addition to working with Swift and Unity for mobile app development as well as proficiency in a number of coding languages. Adam will be working to demonstrate GunEye's product with Smart Glasses and learning more about AR/VR applications with the product. Adam will work in collaboration with GunEye's development team, Conduction Technologies.